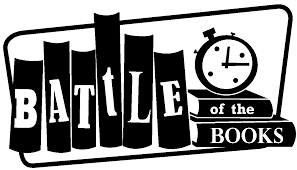 Meeting Schedule January-February Meetings for all Battle of the Books students and team coaches will be held in the library on the following days from after school until 3:45PM on the following dates. Teams may choose to meet more often than this on their own if they would like- up to the team members and coach. March dates and final battle details announced soon.
January 13th
January 27th
February 10th
February 24th
Prepare for Battle All teams should have read every book on the list before the final battle in March (collectively, so at least one student has read each of the 12 books). Teams will need to answer all questions with title and author, so it is important they are familiar with the book list and associated authors. Students should become as familiar as they can with details from as many of the books as they can. Please see quizzes and resources linked below in order to get your player ready for the competition.
Book List
| | |
| --- | --- |
| Book Title | Author |
| The Chalk Box Kid | Clyde R. Bulla |
| Out of My Mind | Sharon M. Draper |
| Jeremy Thatcher, Dragon Hatcher | Bruce Coville |
| Moo | Sharon Creech |
| One Dead Spy: The life ,times, and last words of Nathan Hale | Nathan Hale |
| Bearstone | Will Hobbs |
| Earthquake Terror | Peg Kehert |
| Alvin Ho: Allergic to Girls, School and Other… | Lenore Look |
| All About Sam | Lois Lowry |
| The Best School Year Ever | Barbara Robinson |
| Rowan of Rin | Emily Rodda |
| Fuzzy Mud | Louis Sachar |
Resources
Region Battle
The top 2 or 3 teams from our school will advance on to Region competition. Region competition will be April 24th 2-4:30 for the 3 preliminary rounds (top 2-3 teams from each school will attend this) and May 1st 2-4:30 for the elimination rounds (only those advancing on attend this day).