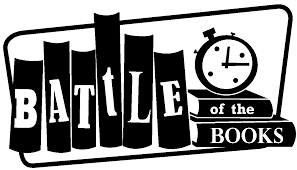 Monthly meetings will be held after school Monday October 14th, November 11th, and December 9th.
Students must register for this program. Registration closes on October 13th. In addition, we will need several team parents to volunteer as team coaches. Please come to the meetings if you are able to be a team coach.
What is it? Battle of the Books is an after-school literacy competition for 3rd – 5th graders designed to encourage reading outside of the school curriculum. Students read books at home from a selected list, form teams, and compete using their collective knowledge on the content of the books. Winners at our school will compete in a district wide competition in April 2020. Here is a youtube video from another area's competition that might give you an idea on what it looks like.
What do students do?
1 – Read Books from the book list. They can partner read with friends, read as a family, read on their own, or listen to the audio book. They do not have to read all the books on the list to participate but will be put in groups so collectively their group has read all the books. Please note that these books are outside of the school curriculum and students should not expect to have time in class to read these books.
2 – Attend monthly meetings in September – December.
3 – Attend weekly meetings in Jan-Feb and compete in the school competition in March. Details TBD.
What do parents need to do?
1 – Encourage their students to read. Help get access to the books. Help get the students to the meetings.
2 – Volunteer to help as a team coach or help with the competition if possible.
3- Students must be in grades 3-5. Registration closes October 13th.
Book List
| | |
| --- | --- |
| Book Title | Author |
| The Chalk Box Kid | Clyde R. Bulla |
| Out of My Mind | Sharon M. Draper |
| Jeremy Thatcher, Dragon Hatcher | Bruce Coville |
| Moo | Sharon Creech |
| One Dead Spy: The life ,times, and last words of Nathan Hale | Nathan Hale |
| Bearstone | Will Hobbs |
| Earthquake Terror | Peg Kehert |
| Alvin Ho: Allergic to Girls, School and Other… | Lenore Look |
| All About Sam | Lois Lowry |
| The Best School Year Ever | Barbara Robinson |
| Rowan of Rin | Emily Rodda |
| Fuzzy Mud | Louis Sachar |