The 2020 PTA Reflections program has launched!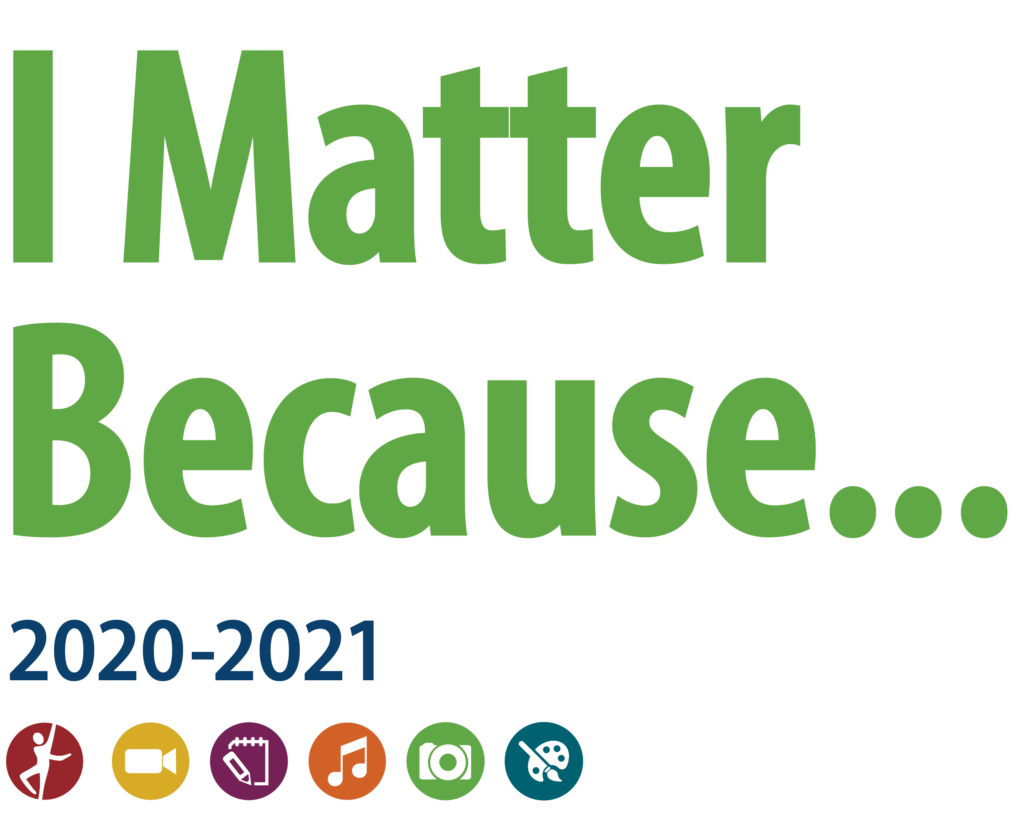 This year the PTA Reflections theme is "I Matter Because…"

Students can create artwork inspired by the theme and compete in the following categories: Dance Choreography, Film Production, Literature, Music Composition, Photography, Visual Arts (2D & 3D).
Reflections Call for Entries
Basic Entry Guidelines
Students may submit only one entry for each of the 7 categories. All entries are due November 6.

NEW in 2020

– All entries must be submitted online (more information below).
Photos should be taken and submitted of all 2D & 3D artwork and uploaded during submission. Photos should be clear and the artwork should be visible in good lighting.
A parent/guardian must provide permission during the online submission process.
Artwork must be the ORIGINAL work of only one student. Multiple people may perform a dance or appear in a video, photo or musical composition but the creator must be one student.
Please be careful of any copyright infringements. Artwork that contains any trademarked or copyrighted images or references will be disqualified.
Interpretation of Theme score is HALF of the total judges score so students should spend time thinking about their Artist Statement. Students should explain how their art relates to the Reflections theme. This year's theme is "I Matter Because…"
Artwork will be judged by professionals/individuals with experience in the relevant field.
Students who are awarded a Certificate of Excellence in either 2D Visual Art or Photography and are advanced to the next level of judging will be notified and will need to deliver their artwork to the school (only after judging takes place).
All students will receive an award and certificate for participating.
How to Submit Artwork Online
Peruvian Park's governing PTA Council has decided that all 2020 artwork entries must be submitted through the Utah PTA online Reflections system. This will make it possible for students to participate safely and minimize contact for students, teachers, PTA volunteers and judges. Thank you for your understanding as we work with this new system which will allow us to help keep our community safe.
All registered Peruvian Park students are eligible to participate, no matter which of the 3 district learning options have been chosen for this year.
Before November 6, parents should visit the Utah PTA Reflections Website. A parent or guardian will need to create an account and can then upload the artwork and student information. You can submit entries for multiple students through the same online family account, no matter which grade level or school in Canyons district.
A parent/guardian must give permission through the online system for a student to participate.
Try Something Different • 60% of all 2019 entries were 2D/3D Visual Art • 25% were in Photography & Music Composition combined • The fewest entries were received in Film Production, Dance Choreography and Literature (less than 8% each).
Reflections Rules
Consent Forms
If any person's voice or image is included in the entry (aside from the submitting artist/student), then a Consent Form should be completed. Consent Forms can be printed and uploaded when submitting artwork entries online.
Important Dates
November 6 – Reflections Entries Due Online
Late October – Reflections Digital Slideshow
Mid November – Reflections Council Awards
Reflections Theme Search
Students can submit ideas for the 2022-23 Reflections theme by visiting the Utah Reflections website. The national 2021-22 theme ("I Will Change the World By…) has been selected and a UTAH student's entry was chosen (from Spanish Fork Junior High)!
Questions? Contact us at reflections.peruvian@gmail.com.